One Year On: Responding to the Manchester Attack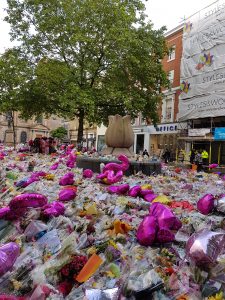 Tayeba Jaleel, MSc, MBACP (Accred) Counselling Psychotherapist and EMDR Europe Accredited Practitioner.

Tayeba has a private practice in Manchester and works with children, adolescents and adults using a trauma-informed approach.
At 10:31pm on Monday May 22nd 2017, Manchester was hit by a terror attack.
A lone suicide bomber detonated a device in the foyer area of the Manchester Arena at the end of an Ariana Grande concert.  A total of 22 people died and it has been reported[1] that more than 800 people have suffered psychological and physical injuries.

Eight hours following the attack, I was asked to provide on-site critical incident support to approximately 20 first responders.

These first responders were employees of a local organisation who ran to the foyer area of the Manchester Arena moments after they heard a loud explosion; the sound of the device packed with nuts and bolts detonating.  These first responders were on-site before the police and paramedics arrived.  Although the term 'first responders' is routinely used for those with specialised training to provide assistance at the scene of an emergency, it is important to note that these ordinary people, on a night shift, were not medically trained.  Nor did they hold any medical supplies or equipment beyond plasters and antiseptic cream. It is these courageous men and women, of varying ages and backgrounds, I was asked to support.

The employer's goal was to reduce the impact of the bombing, accelerate recovery and return its employees to everyday functioning.  There was a critical incident debriefing, a large group process, in which the first responders were encouraged to describe their experience of the incident and its aftermath, followed by a psycho-educational presentation on common stress reactions and stress management. A fundamental aspect of this work was to normalise their feelings and reactions, and teach them that what they were feeling, thinking and experiencing made perfect sense as a response to the traumatic experience. Siegel's hand model of the brain was an especially useful tool in explaining the workings of the brain and the responses to stress and trauma (2010).

I facilitated this process on a one-to-one basis to those who preferred anonymity or found the group process too difficult, or for those who were deemed at risk. These traumatised individuals displayed hyperarousal and intrusion symptoms so extreme that they were unable to cope with their reality. Bearing witness to the horror, similar to that of a war zone, was a dual process.  It required dialogue; courage to speak, courage to listen and courage to be with intolerable, fragmented emotional responses (Herman, 1992).

Over the days that followed, my role included accompanying a group of these first responders back to the scene of the attack. The level of support each first responder required, walking towards and into the Manchester arena, varied.  One or two used the visit to 'walk through' the night of the bombing, which appeared to help fill memory gaps and allow a new understanding of aspects of that night.  For others it seemed to bear the hallmarkings of overcoming fear and avoidance.

A major therapeutic task of the site visit was the transformation of the 'then' and 'now' picture of the foyer area. The original snapshot was deafening.  It was chaotic.  It contained images of pools of blood, dead bodies, detached limbs and severely injured people. The now picture was silent.  There was a marked stillness.  The first responders were drawn to areas etched in their minds.  Although a cleaning operation had taken place, their experienced eyes saw remnants of blood on the walls and the floor, showcased horrors of that night.  The walls bore the mouldings of the nuts and bolts and a large crater in the floor graphically exhibited the exact spot where the device was detonated.

Over the weeks that followed, my role evolved into providing empathic responsiveness through a drop-in service.  My regular presence lent itself to being a container for their repetitive trauma narrative (Bion, 1962).  This was not a passive function.  Enveloping their raw emotional experience, being able to feel and stay with their dread, whilst maintaining a balance of mind, fostered protection, safety and stabilisation.

Simultaneously, local and national efforts were being made to provide trauma assistance to those affected by the bombing.  The EMDR community stood shoulder to shoulder and in direct response to the bombing; Trauma Aid UK invited Elan Shapiro to deliver trauma training for free.  Elan gave his valuable time specifically to teach local EMDR therapists the Recent Traumatic Episode Protocol and Group Traumatic Episode Protocol (R-TEP and G-TEP).  This training was crucial in instilling the confidence and the skills required to work with these severely traumatised people within the 3-month watchful waiting period.

As the on-site drop-in support came to a close, every first responder was offered individual trauma therapy.  Three men and one woman self-reporting enduring distressing clinical or subclinical symptoms of PTSD, including flashbacks, hypervigilance, and physical sensations, came forward.  I saw them individually at my own private practice.

Peter, in his 20s, and Janet (all names are pseudonyms,) in her 40s, engaged in R-TEP EMDR therapy. They reported excessive suffering and persistent disturbing symptoms, especially intrusive sensory images and sleep disturbance.  Contracting was integral to this work.  Affect and feelings of helplessness and powerlessness were significantly high.  Both processed the trauma of the bombing and then proceeded to process other traumas that had become activated. Janet was raped in her teenage years.  Her experience had been silenced by her parents and continued to feature heavily in the relationship she shared with them.  Peter, the only one to score moderately on the ACE (Adverse Childhood Experience) questionnaire, began to process his relationship with his abusive mother.

Matthew and Lewis, the two other men, engaged in psychotherapy using an attachment-based lens.  Matthew, in his 40s, had a long history of anxiety and depression, and used the therapeutic space to address the unresolved loss of his father and the subsequent estranged relationship he shared with the other members of his family.

Lewis, in his 50s, had also been present at the IRA Manchester Bombing on 15 June 1996.  He presented with more of a matter-of-fact attitude but appeared to find the ongoing media coverage almost addictive.  The reasons for this appeared two-fold; feeding his need for being prepared for any further atrocities and for processing the trauma.  Lewis had a unique readiness to deal with intense affect.  At times he felt the need to share graphic details of what he witnessed.  Modelling safety and stabilisation; establishing centring and grounding techniques were key to establishing emotional regulation.

During this time frame I also saw Katie, a 15-year-old girl, who had been present at the concert.  She was not physically injured, but her father who had come to collect her was caught in the blast and was severely injured and hospitalised for months, requiring multiple operations. Enabling Katie to stay within her window of tolerance (Siegel, 1999) via self-soothing and self-regulating behaviours, paved the way for the gradual defining of her role from that of a victim to that of a survivor.  This proved instrumental in the re-integration of her final year at school.

Susan, a severely traumatised mother was also referred for therapy.  Her daughter was present at the concert and had been severely injured.  Shrapnel had embedded in her lower limbs, requiring a number of operations.  Although the daughter had successfully returned to everyday functioning, suggesting that natural healing was taking place, Susan was plagued with images of horror and violence.  She was jittery, depressed and withdrew from work and public spaces.  It was clear her daughter's trauma had become a family affair.

Towards the end of the year, referrals relating to the bombing ceased.  As the date of the first anniversary approached, two of the original first responders came forward to request further assistance.

On the day of the first anniversary, I was approached by a national radio station to take part in their remembrance programme: 'The City Remembers'.  I accepted, engaging in on- and off-air discussions with the Red Cross, parents and grandparents who lost loved ones, first-on-the-scene paramedics, the Manchester Mayor and the Bishop of Manchester.  This active construction of the trauma narrative facilitated a celebration of strength and togetherness.

Reflecting upon the past twelve months has shone a light on the scaffolding that enabled me to engage in this highly distressing line of work: supervision.  My two supervisors packed me with warmth and security, and it is their unconditional, unwavering support that paved the way for me to be drawn into my client's blackboxes, whilst keeping symptoms of secondary traumatic stress at bay.

With special thanks to my supervisors; Orit Badouk-Epstein, an Attachment-Based Psychotherapist, and Luiza Rangel, Consultant Child and Adolescent Psychiatrist and EMDR Consultant; and to Shiraz Farrand and her team at Trauma Aid UK.  Finally, a sincere thank you to Elan Shapiro, who delivered the critical training required, for giving local EMDR therapists the generosity of his time.

Note

A version of this article is published in the European Society for Trauma and Dissociation Newsletter (2018) 7, 3,  18-21, edited by D. Mosquera, O. van der Hart, O. Badouk-Epstein.

References

Siegel, D.J. (1999). The developing mind: How relationships and the brain interact to shape who we are. New York; Guilford Press

Siegel, D. J. (2010). Mindsight: The new science of personal transformation. New York: Bantam Books.

Herman, J. (1992). Trauma and Recovery.  New York: Basic Books.

Bion, W.R. (1962). Learning from Experience. London: Heinemann.

[1]https://www.bbc.co.uk/news/uk-england-manchester-44129386